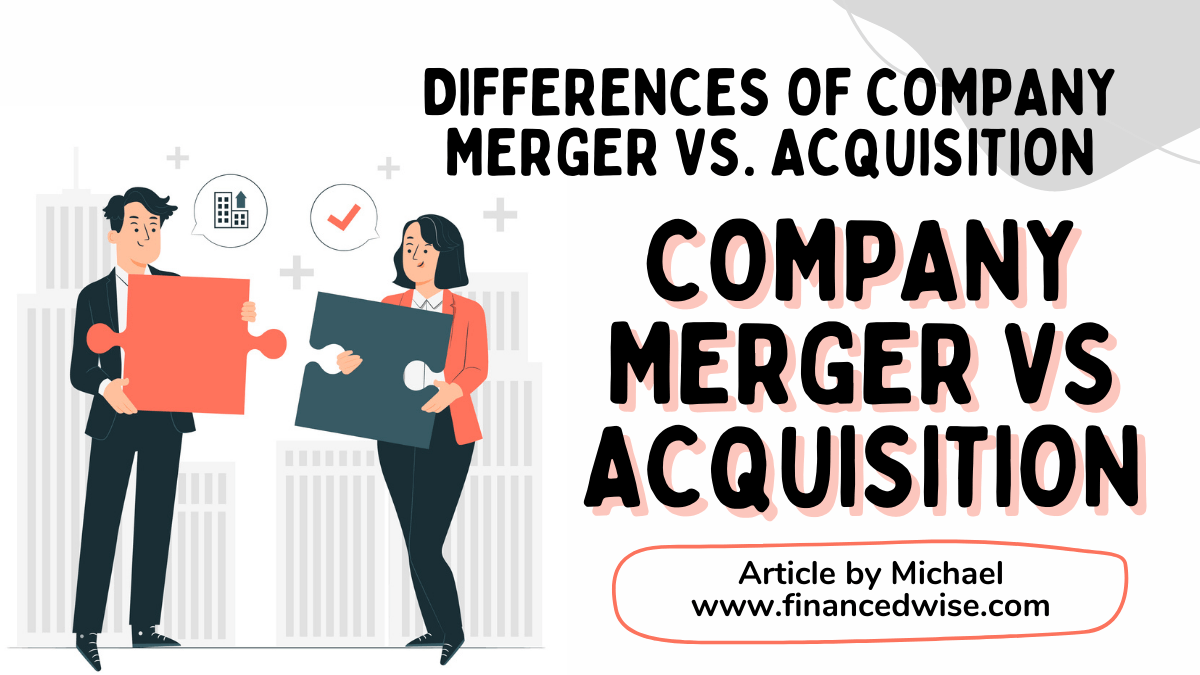 The two corporate restructuring tactics that are most frequently used merger and acquisition and that are frequently used interchangeably are distinct from one another.
These are instances of external expansion, whereby corporate mergers allow business entities to buy operating companies and expand them overnight. Increasing the level of production and marketing operations aids the company in maximizing profit and growth.
The acquisition means "to acquire," whereas the merger means "to combine." "Merger" and "acquisition" have slightly different meanings, although they are frequently used interchangeably.
Whether a transaction is regarded as a merger or acquisition largely depends on whether it is a friendly or hostile takeover transaction and how it is announced. In other words, the critical difference lies in how the target company's board of directors, employees, and shareholders are informed about and react to the acquisition.
A transaction is referred to as an acquisition when one business buys another and makes it evident that it is the new owner. According to the law, the target larger company vanishes, the buyer "swallows" the company, and the buyer's stock continues to trade.
When two businesses, frequently of similar size, decide to merge rather than continue to be owned and run independently, that is what the term "merger" means in its purest form.
The term "union of equals" is used more specifically to describe this activity. Stocks of both firms are relinquished and exchanged for fresh stock.
A merger occurs combines two or more businesses to create a new business through amalgamation or absorption. One company takes over control of another company through an acquisition, also referred to as a takeover. You can distinguish between an acquisition and a merger after reading this article.
What Is A Merger?
A merger calls for consolidating two businesses into one new organization with a new ownership and management structure. The more prevalent distinction to distinguish a deal is whether the acquisition is friendly or hostile.
Mergers don't cost any money to complete, but they reduce each company's individual power.
In actuality, friendly mergers of equals are rare. It's uncommon for two companies to benefit from working together and for both CEOs to agree to cede some control to achieve those benefits.
When this occurs, the shares of both businesses are forfeited, and new shares are issued under the name of the new corporate identity.
Mergers are typically done to increase revenue and profits, expand into new markets, and reduce operational costs. The companies involved in mergers are typical of comparable size and scope and are voluntary.
Don't miss: Quick Guide About Where Can A Banking And Finance Work
What are Acquisitions?
A new company does not form as a result of an acquisition. In contrast, the smaller business is frequently absorbed out of business, and its assets are absorbed into the more significant business.
Mergers typically have a more positive connotation than acquisitions, sometimes known as takeovers. Although an acquisition is a takeover, acquiring companies may still refer to it as a merger.
When one business assumes total operational management of another business, this is known as an acquisition. Acquisitions demand a lot of money, but the buyer has unrestricted control.
Businesses may purchase another firm to buy their supplier and increase economies of scale, lowering costs per unit as production rises. Companies may aim to increase market share, cut costs, and diversify into new product categories.
To obtain the technologies of the target company, businesses make acquisitions. Given the rarity of mergers and the negative connotation of takeovers, the two terms are increasingly combined and used interchangeably.
Nowadays, merger and acquisition transactions rather than just a merger or acquisition are the most common name for corporate restructurings. The new definition of merger and acquisition M&A deals is gradually eroding the differences between the two terms.
Company Merger vs. Acquisition
In essence, "merger" and "acquisition" refer to joining two or more commercial entities to maximize synergies. Expanding operations, gaining a larger market share, cutting costs, or increasing profits are reasons for entering either contract.
Differences between Company merger vs. acquisition
The following bullet points provide a thorough explanation of the critical distinctions between merger and acquisition:
# A merger is a corporate strategy where two companies combine to form a new company. Acquisition is a term that describes a corporate strategy in which one company buys another to control it.
# When two businesses merge, they separate into a new company, whereas neither business ceases to exist when two businesses are acquired.
# Two businesses with similar characteristics and sizes decide to merge instead of an acquisition, where the more prominent company subjugates the smaller company.
# In a merger, a minimum of three companies must be involved, but there must only be two in an acquisition.
# While the companies agree to the merger voluntarily, they may or may not agree to the acquisition.
# Compared to an acquisition, a merger involves more legal requirements.
Similarities between Company merger vs. acquisition
Although you must be able to distinguish between a merger and an acquisition, there are some similarities. The terms "M&A" refer to mergers and acquisitions.
Organizations can terminate through mergers and acquisitions, which can:
Act as exit strategies
It would help if you had an exit strategy whether or not you intend to leave your firm. Once more, exit plans can include mergers and acquisitions as well as:
# Giving the company to a friend
# Putting it out there
# Dissolving the company
Your exit strategy explains to lenders and investors how you intend to safeguard their funds if your business is unsuccessful. You can also prepare for life after your business by having an exit strategy.
If a merger is part of your exit plan, look for a company that would work well with yours before combining the two. Furthermore, if your exit plan involves an acquisition, you might research to identify a company you want to buy from.
Increase company value
Customer counts for businesses generally rise during mergers and acquisitions. Furthermore, mergers and acquisitions may experience increased revenue, depending on the effectiveness of marketing initiatives and workplace productivity.
Many businesses experience lower costs, which might result in higher profits.
Many businesses that engage in M&A experience a rise in company value due to increased customers and potential revenue, which pleases investors.
Offer competitive advantages
Competitive advantages could be available through mergers and acquisitions, increasing overall company value and long-term growth.
If the businesses were rivals, mergers and acquisitions would eliminate that rivalry by joining the two. Furthermore, the new company may outperform its rivals thanks to its rapid growth.
You know the value of having current financial records, regardless of your business's stage.
Don't miss: Get An Overview About This To Increase Wealth And Prosperity
The Bottom Line
There are currently very few mergers, but the acquisition is becoming increasingly popular because of the intense competition. While an acquisition involves the stronger company acquiring the smaller one, a merger involves the two companies working together to become one.
However, both benefit from taxation, synergy, financial gain, increased competitiveness, and many other factors that can be advantageous.
On the other hand, occasionally, unfavorable effects can also be observed, such as a rise in employee attrition, a clash in the cultures of organizations, and others, but these are uncommon.

Must See
Discover the hidden factors that can inflate your loan balance in this comprehensive guide....

Navigating the labyrinth of federal tax withholding can be daunting, but this comprehensive guide...

Discover how the 50/30/20 rule, endorsed by the Consumer Financial Protection Bureau, offers a...